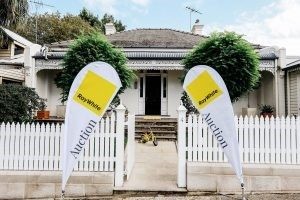 As with recent weeks, buyers came to the 5 October auction portfolio with a positive attitude to bid and buy. Seven of the 11 properties offered For Sale sold 'under the hammer', one immediately post auction.
The properties being offered were found in Pakuranga, Sunnyhills, Farm Cove, Half Moon Bay, Bucklands Beach, Huntington Park, Dannemora and Flat Bush, as well as a redevelopment site in Otahuhu. One property received a pre-auction offer ahead of their designated auction date. Therefore, they were brought forward, to be included within this portfolio.
The evening began with 13 Brailsford Court in Dannemora, which was brought forward from its designated 12 October date due to an unconditional, pre-auction offer having been accepted by the vendor, subject to the property being submitted to auction at the earlier date. From the pre-auction offer of $1,550,000, it sold 'under the hammer' for $1,600,000.
The evening progressed with further highlights.
1/8 Liam Place, Half Moon Bay attracted 23 competitive bids and sold 'under the hammer' for $839,000
13 Dunoon Close in Flat Bush got off to a positive start and, after some 7 bids, sold 'under the hammer' for $1,330,000
3/329 Pakuranga Road, Pakuranga sold 'under the hammer' for $775,000
5 Beaconview Rise in Farm Cove reflected the popularity of its cul-de-sac neighbourhood and, after a very competitive 45 bids, eventually sold 'under the hammer' for $2,715,000
8 Curlew Bay Road, Otahuhu reflected the current interest in redevelopment possibilities, selling 'under the hammer' after some 50 highly competitive bids, for $759,500
25 Huntington Drive in Huntington Park sold 'under the hammer' after 7 bids, for $1,130,000
1/89 Takutai Avenue Bucklands Beach sold immediately post auction with an unconditional sale
We continue to work with the buying interest for the balance of the portfolio to affect a successful sale for our vendors.
So, after more than three weeks of marketing we have achieved extremely pleasing, positive and competitive bidding, with great results for our vendors, whose properties sold under the hammer. However, it should also be acknowledged that the sales provided buyers with an opportunity to buy quality real estate assets, knowing that while having to competitively bid/buy to be the 'winner', they were bidding for/buying property which was also the first choice for a number of other buyers.
The prices achieved confirmed our ability to maximise price for our vendors. However, to achieve such results buyer interest, bidding registrations and actual competitive bidding are the components to achieving great results.
Tuesday 6 October
Our busy and active week continued with a decision being made to bring the auction date for
7 Regia Close, Half Moon Bay and 2/3 Tyrian Close, Half Moon Bay forward from their 12 October designated date. This was due to an unconditional offer being accepted by our vendors, subject to their property being submitted to auction and also, acknowledging that bringing the date forward was due to our vendors' generous decision to advance the sale date, thus giving all buyers the opportunity to buy 'now', rather than waiting for the designated auction date.
7 Regia Close in Half Moon Bay sold 'under the hammer ', after extremely active and determined bidding of some 60 bids, for $1,410,000
2/3 Tyrian Close, Half Moon Bay also sold 'under the hammer' for $1,180,000, which was a pleasing result for both our vendors and buyers
29 September
We were asked to market a property at 41 Glass Road in Mount Roskill, which is a 1950's three bedroom, surrounded by a 447m2 section. It sold 'under the hammer' for $725,000.
This year is disappearing all too fast. However, as we move through October, November and the earlier weeks of December, we will have quality portfolios of property which will give buyers an opportunity to evaluate their buying options. This is coupled with our ability to give prospective buyers direct access to a highly experienced, award winning team of mortgage advisors, who have access to a variety of lending institutions and their very favourable mortgage conditions.
As a foot note, I keep an eye on Australian trends through reports published by Williams Media.
This week there was limited auction activity comment. However, the following comments were made.
'We're now into the second month of Spring and auction clearance rates are holding up well.
Prices remain remarkably stable, partly due to low stock. Across the combined capitals, CoreLogic says new listing volumes are down -35% on the four-year average, with Melbourne's stage four restrictions exacerbating the situation.
The southern city's Spring selling season effectively began a month late because physical inspections of properties for sale were banned until September 27. Now, buyers can inspect homes by appointment, whilst auctions must continue to be held remotely.'
Ken Ralph
Auction Services Manager