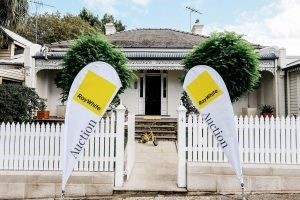 This portfolio drew a very pleasing attendance to the Headsail room of the Bucklands Beach Yacht Club, the home of Ray White Auctions. It included people who had registered buying interest, those who had expressed conditional buying interest and those who came along to see what is selling and for what price, to give an idea of what is happening very currently in the real estate market.
The portfolio included properties from Pakuranga, Half Moon Bay, Howick, Cockle Bay and Huntington Park.
Exciting bidding with an extremely favourable clearance was the conclusion to well-planned marketing, qualifying buying interest and providing our vendors with accurate information.
The evening began with 8 Edgar Pearce Place in Howick, which was brought forward from its' original 16 December auction date due to a pre-auction offer which was accepted by our vendors, subject to the property being submitted to auction on the earlier date. It sold 'under the hammer' after a $950,000 pre-auction offer start and seven bids, for $969,000.
4 Compass Point, Half Moon Bay attracted seven bidding registrations with five bidders coming in and out of the bidding during the auction. A massive 112 bids eventually sold the property 'under the hammer' for $1,090,000.
7A The Glebe in Cockle Bay, a heart of Howick Village location, was a unique 340m2 section site which offered buyers the opportunity to 'build their own'. It sold 'under the hammer' for $650,000.
Next to sell 'under the hammer' was 3B St Leger Close, Huntington Park, selling after some 25 bids for $895,000.
147 Cook Street in Howick sold post auction, after further negotiations with the highest bidder.
6 Lisa Rise in Half Moon Bay, at the vendors' request, will be remarketed in February 2020.
2/8 Wilbur Place, Pakuranga attracted two pre-auction offers and we continue to work with buying interest to try and achieve the vendors' price expectations.
So, after three weeks of marketing we achieved extremely pleasing, positive, competitive bidding and great results for our vendors. However, it should also be acknowledged that buyers were able to secure quality properties. The results are also confirmation of a confidence in the current real estate market and a confidence in the quality real estate options which we enjoy in our Eastern Beaches area.
As I have highlighted in previous reports, our vendor clients have consistently, each month of this year, listed quality properties. This has given buyers quality buying options, as well as an opportunity to evaluate these buying options with our ability to give prospective buyers direct access to a highly experienced, award winning team of mortgage advisors, who have access to a variety of lending institutions and their very favourable mortgage conditions.
As a foot note, I keep an eye on Australian trends through reports published by Williams Media, which this week simply signed off: 'From all of us at The Real Estate Conversation, we wish our dedicated readers a very Merry Christmas and Happy New Year,' an indication that for the major cities they were at the last transaction week for 2019.
Ken Ralph
Auction Services Manager