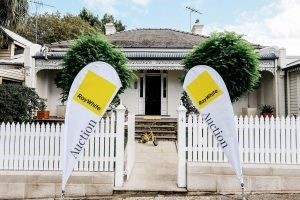 Our fifth auction portfolio for 2020 offered a wide price range of property across our Eastern Beaches residential area, which attracted pleasing buyer interest. Open Home activity over last weekend indicated that the majority of potential buyers continue to concentrate on securing a home that will best suit their current requirements, undeterred by the weekend's media reporting.
Current interest in real estate was quite evident with a big attendance, once again, at the Headsail room of the Bucklands Beach Yacht Club, the home of Ray White Auctions. This included people who had registered bidding interest, those who had expressed conditional buying interest and also those who came along to see the start of the New Year by way of what is selling and for what price, to give an idea of what is happening very currently in the real estate market.
The portfolio included properties from Pakuranga, Bucklands Beach, Howick, Cockle Bay, Dannemora and Flat Bush.
Within the portfolio, two properties sold 'under the hammer' on earlier auction dates. For the balance of the portfolio, we had identified buyers who were able to meet the terms of an unconditional agreement for four of the properties, with all four attracting bidding interest.
So, an extremely pleasing unconditional sale clearance for the four properties was the conclusion to well-planned marketing, qualifying buying interest and providing our vendors with accurate information.
The evening included recognition of the two properties which had sold prior to their designated 2 March auction date.
5 Willoughby Avenue in Howick sold at our Howick Office Boardroom venue on 26 February, due to a pre-auction offer, subject to the property being submitted to auction. It sold 'under the hammer' for $1,395,000
6 Moy Place, Dannemora also sold at our Howick Office Boardroom venue on 20 February, due to a pre-auction offer, subject to the property being submitted to auction. It sold 'under the hammer' for $1,256,000
Facing bidding competition during the evening was:
1/39 Patons Road in Howick, which sold 'under the hammer' for $1,015,000
1/46 Cherry Road, Bucklands Beach sold 'under the hammer' for $825,000
1/16 Manapouri Place in Pakuranga followed, selling 'under the hammer' for $890,000
19 Paparoa Road, Cockle Bay was the next to sell 'under the hammer' for $926,000
We continue to negotiate with buyer interest for the three remaining properties.
So, after three weeks of marketing, extremely pleasing, positive and competitive bidding, with all but one property selling unconditionally 'under the hammer'. Great results for our vendors, however, it should also be acknowledged that buyers were able to secure quality properties. The results are also confirmation that we begin 2020 on a note of definite confidence in the current real estate market, as well as a confidence in the quality real estate options which we enjoy in our Eastern Beaches area.
Wednesday 4 March
Our busy active week continued with a decision being made to bring the auction date
forward for 1/1 Willow Way in Sunnyhills, due to an unconditional offer having been accepted by our vendors, subject to their property being submitted to auction. It should also be acknowledged that bringing the date forward was due to our vendors' generous decision to advance the sale date, thus giving all buyers the opportunity to buy 'now' rather than waiting for the designated auction date.
1/ 1 Willow Way was brought forward from its 9 March designated auction date, selling 'under the hammer' for $750,000
Each month we have portfolios of quality properties. This gives buyers quality buying options, as well as an opportunity to evaluate these options with our ability to give prospective buyers direct access to an highly experienced, award winning team of mortgage advisors, who have access to a variety of lending institutions and their very favourable mortgage conditions.
The goal of an auction selling strategy and marketing programme concentrates on giving our vendors the opportunity to sell with a totally unconditional agreement, as well as buyers an opportunity to buy in the most efficient and transparent way. We have been delighted that our 32 + years of auction marketing experience, through times of both great exuberance and times of great challenge, has given us the experience to assess accurate buyer feedback, offering vendors the information they need to set reserves which will achieve the very best possible sale price.
As a foot note, I keep an eye on Australian trends through reports published by Williams Media, which this week reported with a headline of: 'Super Saturday results hitting 77+ per cent clearance rates. CoreLogic reports this week's volumes are higher than last week's spike of properties going to auction. Volumes reached similar levels to those seen around the end of last year over the seasonal hype pre slowdown period when clearance rates were tracking around the mid 60 per cent to low 70 per cent range.
In Melbourne, Australia's largest auction market, a preliminary auction clearance rate of 77.1 per cent was recorded across 1,567 auctions this week; the busiest week for auctions Melbourne has seen since October 2018 (1,709).
There were 1,045 Sydney homes taken to auction this week, returning a preliminary auction clearance rate of 81.4 per cent, which was the highest preliminary results across the capital city markets.
Ken Ralph
Auction Services Manager