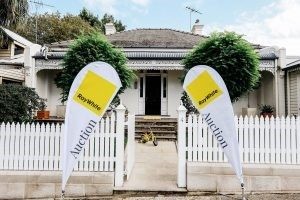 Our 26 November portfolio offered a variety of property types throughout our Eastern Beaches residential areas, giving vendors an opportunity to sell and buyers an opportunity to buy during these final weeks of 2018.
The Headsail room of the Bucklands Beach Yacht Club, the home of Ray White Auctions enjoyed a pleasing attendance including people who had registered buying interest, those who had expressed conditional buying interest, and those who came along to see what is selling and for what price in order to get an idea of what is happening very currently in the real estate market.
While there was reticent bidding by comparison to last week, the buyer interest for properties within this portfolio and the promotion during the auction has been the catalyst for considerable post-auction activity.
There are always reasons why buyers who are able to meet the terms of the Auction For Sale and Purchase Agreement choose not to bid and are prepared to place an offer in competition with conditional buying interest post- auction.
With the current interest rates and mortgage options together with, largely, vendors who are prepared to understand the pre-auction market feedback price and "meet the market", buyers are able to secure quality properties with the opportunity to buy at better value than they may have done not so long ago.
Currently we face challenges of an adjusting marketplace where buyers need to sell their current home in order to buy, banks are reluctant to arrange bridging finance, mortgage finance is being scrutinised much more carefully, and new requirements to meet the provisions of section 51A of the Overseas Investment Act 2005 came into effect 22 October requiring completion of the Residential Land Statement form prior to being able to buy property.
Nevertheless, the goal of our auction marketing programmes is provide our vendor clients with an unconditional sale, and this goal is definitely not diminished by these current challenges.Three weeks of marketing gives a base to work with conditional buying interest if unconditional buying interest is not achieved at, or immediately post-auction.
58 Sorrel Crescent sold under the hammer at $1,620,000 after allowing all parties to carefully consider their selling/ buying position. We do not apologise for time during an auction because while we endeavour to move through the portfolio with efficiency, it is important that all parties get considered time to reach a very important decision.
18 William Bryan Drive and 41 Udys Road have been conditionally sold immediately post-auction. Another nine properties have either received an offer for vendor consideration or we are still continuing negotiations.
Our confidence in our auction programmes remains as our goal is to achieve an unconditional sale for our vendor clients, particularly as there are now so relatively few weeks left in this year for vendors to achieve an unconditional sale. This is equally an important time for buyers to give them certainty as to where they will start 2019, either for schooling or other lifestyle changes.
It is important to continue to note that some vendors are not always able to accept buyer expectations of price for various reasons, however auction marketing is a very positive way of testing the market in a defined space of time to determine if the buyers' price will enable them to make the lifestyle/ property change they envisage.
In addition to the comments above, there are always various reasons why potential buyers cannot meet the terms of an Auction For Sale and Purchase Agreement which is a totally unconditional agreement, however we try to work with these potential buyers to attract the best conditional sale for our vendor clients.
As a footnote – it is interesting to read this week's property report from Australia:Melbourne and Sydney have now entered their third month of auction clearance rates stalling, according to CoreLogic data; with last week's final auction clearance rates the lowest result seen since June 2012.
Further comments were:
"We want to show our vendors that while selling on the night is always everyone's first preference because it's an unconditional sale, we can statistically show that even if you don't sell on the night, you have a high likelihood of selling in the four to eight week time period after.
"I think that as soon as people stop talking about clearance rates being a reflection of the market the better, because they're not. We've all forgotten what a normal market is."
-Source: Recon Daily, 26 November 2018 (The Real Estate Conversation)
Ken Ralph
Auction Services Manager