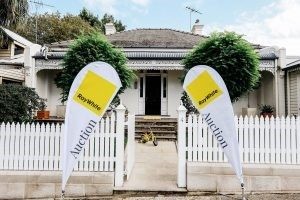 Our 3 December portfolio again offered a variety of property type throughout our Eastern Beaches residential areas, giving vendors an opportunity to sell and buyers an opportunity to buy during these very final days/weeks of 2018.
The Headsail room of the Bucklands Beach Yacht Club, home of Ray White Auctions enjoyed a pleasing attendance including people who had registered buying interest, those who had expressed conditional buying interest, and those who came along to see what is selling and for what price in order to get an idea of what is happening very currently in the real estate market.
All of the properties we had identified with registered buying interest attracted bidding interest; and the balance of the portfolio we were able to "showcase" attention to those still researching buying opportunities while working with the buyer interest we had identified prior to auction.
Highlights of sales under the hammer included:
12 Janome Place, Bucklands Beach – $1,165,000 after some 15 bids
18 Carole Crescent, Pakuranga – $840,000
20A Vincent Street, Howick – $1,060,000
52 Megan Avenue, Pakuranga attracted bidding but not to vendor price expectations, as did
14 Brosna Place, East Tamaki, attracting 17 bids.
2/ 19 Haseler Crescent received a post auction offer and negotiations continue.
We continue to work with all potential buyers who have inspected properties within this portfolio.
There are always various reasons why potential buyers cannot meet the terms of an Auction For Sale and Purchase Agreement which is a totally unconditional agreement, however, as stated above, we try to work with these potential buyers to attract the best conditional sale for our vendor clients.
Currently we face challenges of an adjusting marketplace, where buyers need to sell their current home in order to buy, banks are reluctant to arrange bridging finance, mortgage finance is being scrutinised much more carefully, and new requirements to meet the provisions of section 51A of the Overseas Investment Act 2005 came into effect 22 October, requiring completion of the Residential Land Statement form prior to being able to buy property.
Nevertheless, the goal of our Auction Marketing Programme is provide our vendor clients with an unconditional sale, and this goal is definitely not diminished by these current challenges. Three weeks of marketing gives a base to work with conditional buying interest if unconditional buying interest is not achieved at, or immediately post auction.
Our confidence in our auction programme remains as our goal is to achieve an unconditional sale for our vendor clients, particularly as there are now just days left in this year for vendors to achieve an unconditional sale. This is, equally, an important time for buyers to give them certainty as to where they will start 2019, either for schooling or other lifestyle changes.
It is important to continue to note that some vendors are not always able to accept buyer expectations of price for various reasons, however auction marketing is a very positive way of testing the market in a defined space of time to determine if the buyers' price will enable them to make the lifestyle/ property change they envisage.
Ken Ralph
Auction Services Manager